PATIENT EXPERIENCE STRATEGY
Helping more patients successfully access and benefit from antidepressant treatments delivered in clinic and at home.
Year
2021
Client
Spravato
Johnson&Johnson
---
INTRO

We desigend a patient experience for an esketamine-based nasal spray which is used in conjunction with an oral antidepressant, for the treatment of:
Treatment-resistant depression (TRD) in adults.

Depressive symptoms in adults with major depressive disorder (MDD) with acute suicidal ideation or behavior.
At Johnson&Johnson Design, we developed a new patient experience by leveraging a human-centered approach.
Initial research showed that at-home treatment would be a desirable addition to the current patient experience and fulfill a great need of our patients. Our task was to bring this concept to life.
︎︎︎ How might we help more patients successfully access and benefit from treatments delivered in clinic and at home?
---
BUSINESS CHALLENGE

Support a 20x growth in new patients by 2025:
1
Expand access via a desirable at-home delivery experience.

Supporting an increase in prescriptions by non-users and increasing treatment center capacity
+135k-180k new patients

2
Help all patients advance through fulfillment and the first two months of treatment via an optimized experience.
Supporting improved treatment center productivit

y
+50-70k new patients
A focus on desirability …
… with an eye on feasibility, viability, and integrity. By putting people first and leveraging creative problem-solving, we help drive solutions that are logistically feasible, financially viable, values aligned with Our Credo, and—most critically at this stage—desirable. An initial orientation toward desirability helps focus following explorations on concepts we're confident people will want.
---
PHASE 1: ALIGN
---
RESEARCH
We gathered foundational insights through a human-centered approach.
---
SECONDARY RESEARCH

Backround research, competitor analysis, market research

---
PRIMARY RESEARCH

Workshops with HCP advisors:
psychiatrists, PCPs, PA, NPs

---
PRIMARY RESEARCH

Interviews with patients


---
We focused on the following three areas of inquiry:
PHASE 3: DEFINE
---

"I'm ashamed of being so sick that I need this thing that I don't want."
— Current Patient

"The better I feel, the more I want to work, and the time savings possible with home treatments
might make this possible."
— Person living with TRD/MDSI

"After several weeks of treatment, I didn't feel anything and thought I should stop. But the nurse said to just stick it out and I'm so glad she did."
— Current Patient
Six themes emerged from our collective research with patients, caregivers and HCPs. These are relevant to the business challenge and lay a foundation for desirable patient experiences.
ANXIETY
Debilitating anxiety is a defining factor in many patients' lives.
TRUST
Trust between the prescriber, patient, visiting nurse, and Janssen will be the lynchpin of a successful at-home model.
PREPARATION
Predictability diminishes anxiety, and patients appreciate efforts to inform and prepare them for what to expect.
CONTROL
Patients are more receptive to change when they feel like they are in the driver's seat.
ACKNOWLEDGEMENT
Many patients are hungry for simple things like eye contact, active listening, and reassurance. These behaviors are the key to great experiences.
RESPECT

Patients respond well to unfiltered plain language delivered with professionalism and humility.
---
CURRENT STATE PATIENT JOURNEY
We developed an interactive journey map highlighting the current state of the patient experience.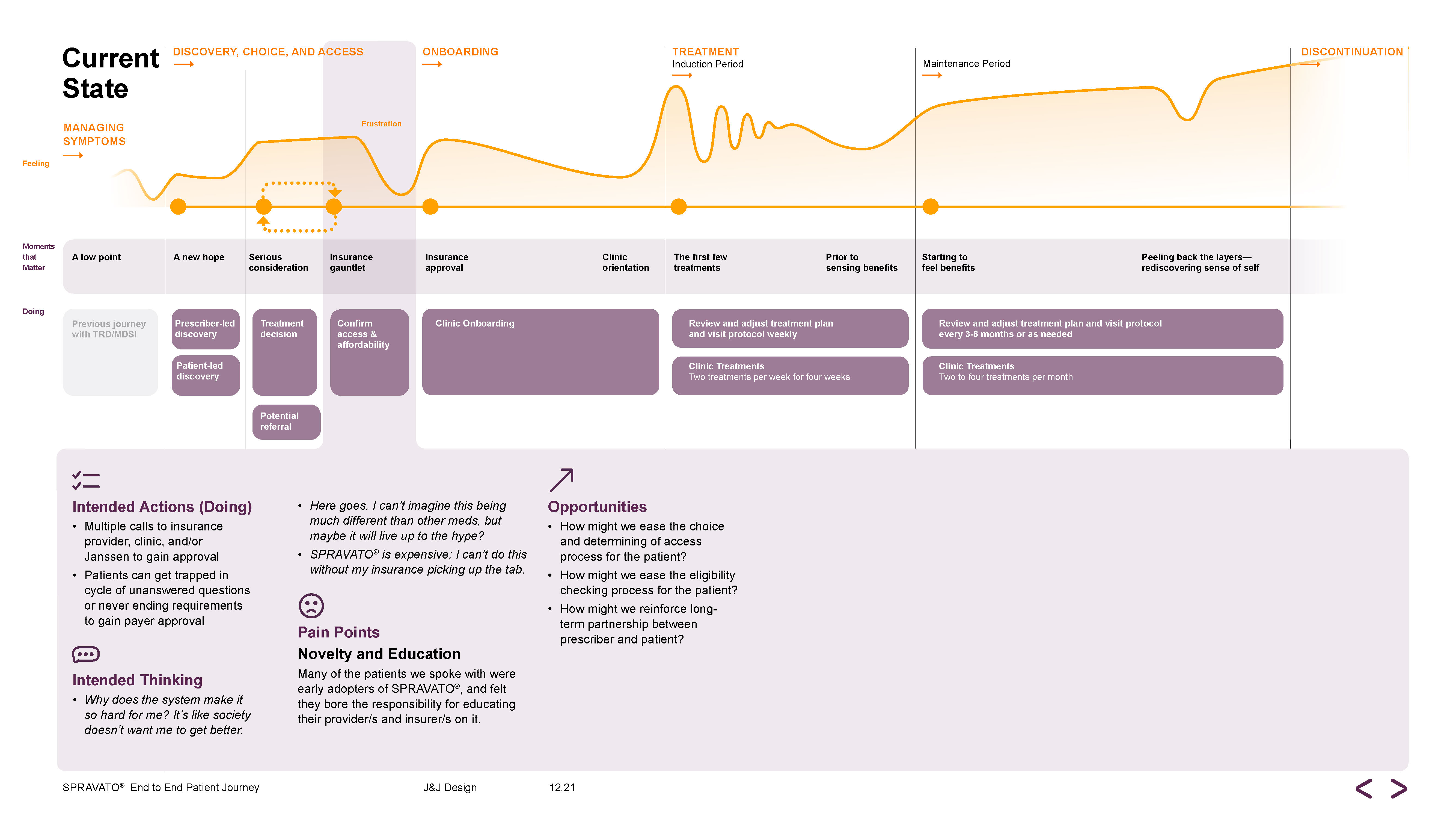 PHASE 3: DESIGN
---
FUTURE EXPLORATION
"I think of my mind before treatment as a skyscraper with hallways and doors and floors all stuffed with furniture. It's like this medication blew all that stuff out and suddenly doors and floors opened up that I didn't even know were there."
— Current Patient
---
WORKSHOP 1
Two workshops with the previous group of patients


---
WORKSHOP 2
Workshops with ~40 HCP advisors, including psychiatrists, PCPs, PA, and NPs
---
EXPERIENCE PRINCIPLES
This collection of overarching principles reflect the themes that arose from our research. These principles underlie our recommendations and serve as a unifying guide for desirable product and service development moving forward. Experience principles are living tools providing additional decision-making criteria for future service, asset and touchpoint design/development.

BE AUTHENTIC AND EMPATHETIC
Be clear, consistent, and humble. Communicate in compassionate plain language. Do not trivializing depression.
SET REALISTIC EXPECTATIONS
Encourage optimism without setting expectations that may lead to false hopes.
MAKE IT SIMPLE
Patients are our VIPs. Take every opportunity to ease their burden and honor their time with respect.
REASSURE AND PREPARE
Reassure, prepare, and help patients feel in control as much as possible, so things out of their control are easier to handle.
LISTEN ACTIVELY TO ACT APPROPRIATELY
Make patients feel heard and respected by listening without judgement and meeting them where they're at with pragmatic support.
---
JANSSEN'S EXPANDING SCOPE
Building on…
a clinically focused treatment support service

...toward…
a more holistic Patient Support Services program that highlights emotional and logistical support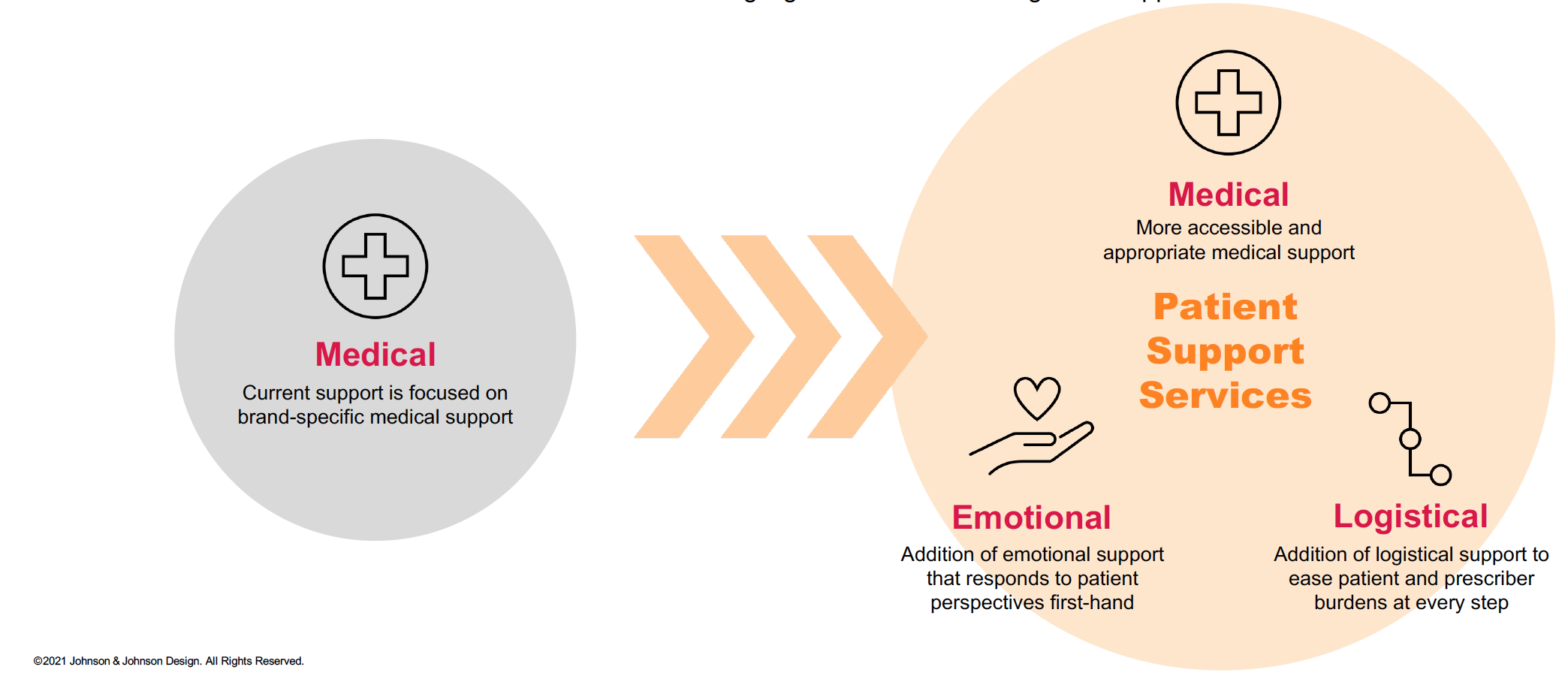 ---
FINAL STRATEGIES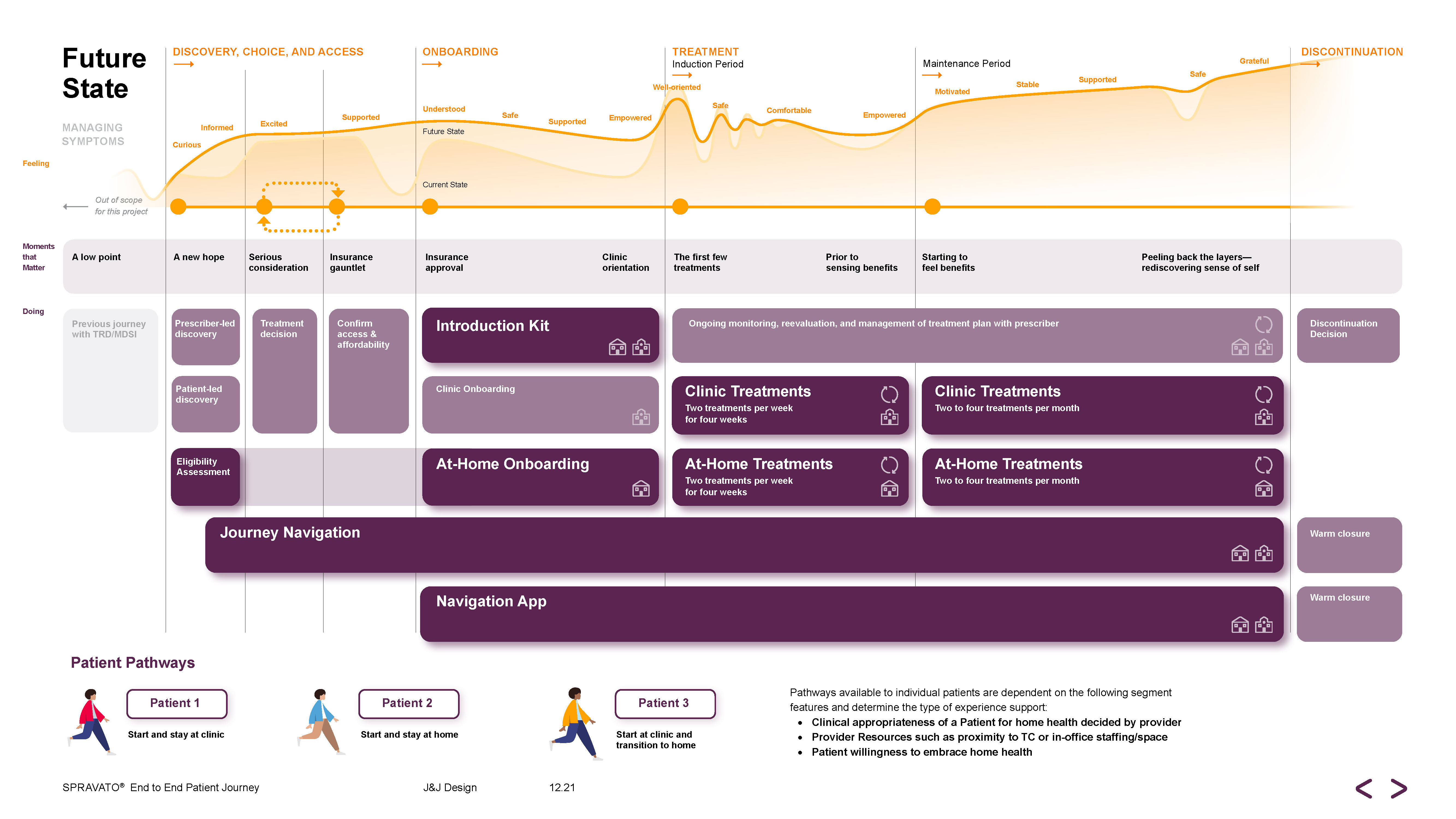 SET 1
---
PATHWAY SELECTION



Prescribers are responsible for evaluating and recommending the most appropriate therapeutic path. Decision criteria, visualized in printed and digital form, helps prescribers and patients understand their options during discovery and consideration. A consistent and common understanding of the pathways and their contexts also allows internal and external Janssen stakeholders to keep the patient journey top of mind as services are developed.
SET 2
---
INTRODUCTION KIT
Practical tools and authentic stories, with plain language and visualizations, equip patients with the mindset, toolset, and knowledge they need to feel prepared, in control, and respected. This is essential as they embark on their first several treatments.

Current onboarding practices get a lot right, but leave some patients confused about what they should expect during the first few sessions and over the long haul. The concepts recommended here build on what's working well today, and in conjunction with athome- and clinic-specific onboarding procedures, set patients up for success.



SET 3
---
VISITING NURSE READINESS
Visiting nurses are the lynchpins of a successful patient experience. A balance of qualifications, experience, personality, and training sets the foundation for trusting relationships. To receive treatments at home, a qualified visiting nurse must be present with patients to open and prepare the nasal spray, coach them through self-administration, monitor their blood pressure and other vitals as necessary, and follow a protocol if an adverse event occurs.


SET 4
---
AT-HOME ONBOARDING
A carefully choreographed introduction to the visiting nurse and at-home treatment builds trust between patients, prescribers, and visiting nurses, and equips. Patients are more likely to feel prepared and in control in anticipation of their first treatment. The prospect of having a visiting nurse enter their home can induce anxiety for many people living with TRD/MDSI, and prescribers want assurances that their clinical standard of care will extend into this at-home service. An easy, coordinated, and multi-faceted intake journey will build trust amongst the prescriber, patient, and visiting nurse, and help the patient feel prepared and in control ahead of their first treatment.


SET 5
---
TREATMENT SUPPORT
Personal attention, respect, and reassurance set a foundation for a predictable and reliable treatment experience in both clinic and home settings. Patients self-administer, facilitated by a nurse in a variety of settings; at home, with groups in treatment centers, alone in small clinics, etc. Regardless of the environment a standardized human-centered approach establishes a consistent and predicable standard of care.


SET 6
---
JOURNEY NAVIGATION
For patients who seek personalized support through the treatment journey, navigation supports with orientation, coaching, education, and logistics—and is designed to offer reassurance, predictability, and stability to help patients start and stay on therapy. With a foundation in behavioral science, the program is a single point of contact model for Janssen.


SET 7
---
SUPPORT APP
To ease the treatment management burden, minimize uncertainty, and provide feedback loops, a mobile app unites digital touchpoints and tools into a single portal helping patients stay on track. It adds another layer of stability, transparency, and predictability throughout the patient experience. With this elevated access and awareness, patients are more likely to feel informed, prepared, motivated, and in control.


PHASE 4: IMPLEMENTATION
---