FUTURE OF HIGHER EDUCATION
Futures Workshop to construct

alternative

visions for The New School's next 100 years.
---
INTRO


My team and I invited The New School community at large to join a workshop aimed to construct alternative visions for the university's next 100 years, including desirable, undesirable and ambiguous possibilities. This workshop established a forum for discussing the potential impacts higher education institutions could face in the next century, as well as ambitions which should lead our actions. Participants worked with futures-oriented thought tools to rigorously examine and devise concrete scenarios that can serve to influence decisions made in the near term.
This forum is part of our attempt at understanding collectively what it means for higher education in the future(s) through discussions and co-creation with our community partners (students, faculties, administrative staffs, and other interested parties). Over the course of 3 hours, we discussed potential changes that institutions of higher education could face in the near, intermediate, and far future. We created simple narrative sketches that helped illuminate the tensions and opportunities that are present in the complex system of higher-ed.
---
RESEARCH
---
DESIGN
Our prototype attempted to identify signals from the past that were then used to extrapolate future scenarios by speculating their future implications through different lenses.
---
The past events including signals were presented on a timeline.
---
Work sheets and reflection cards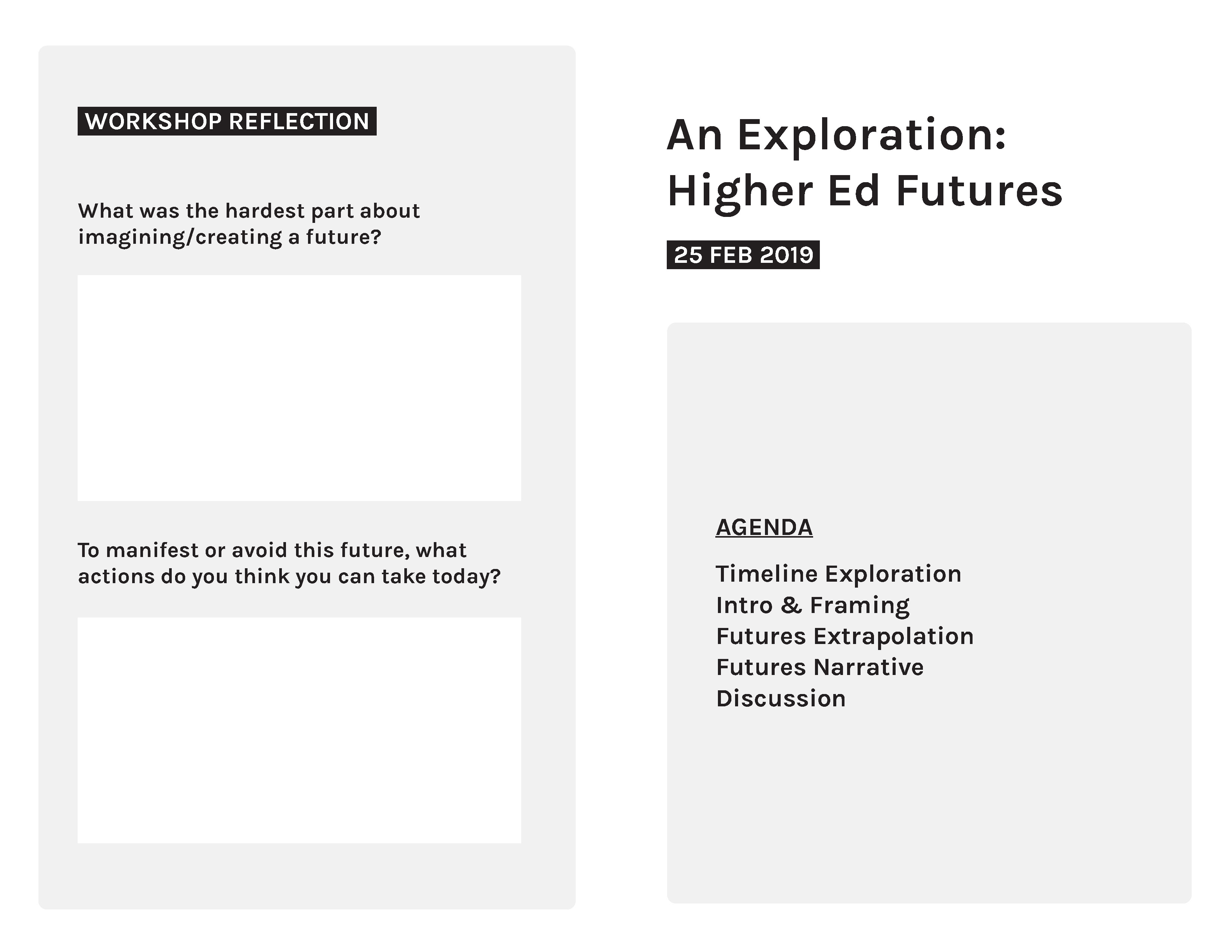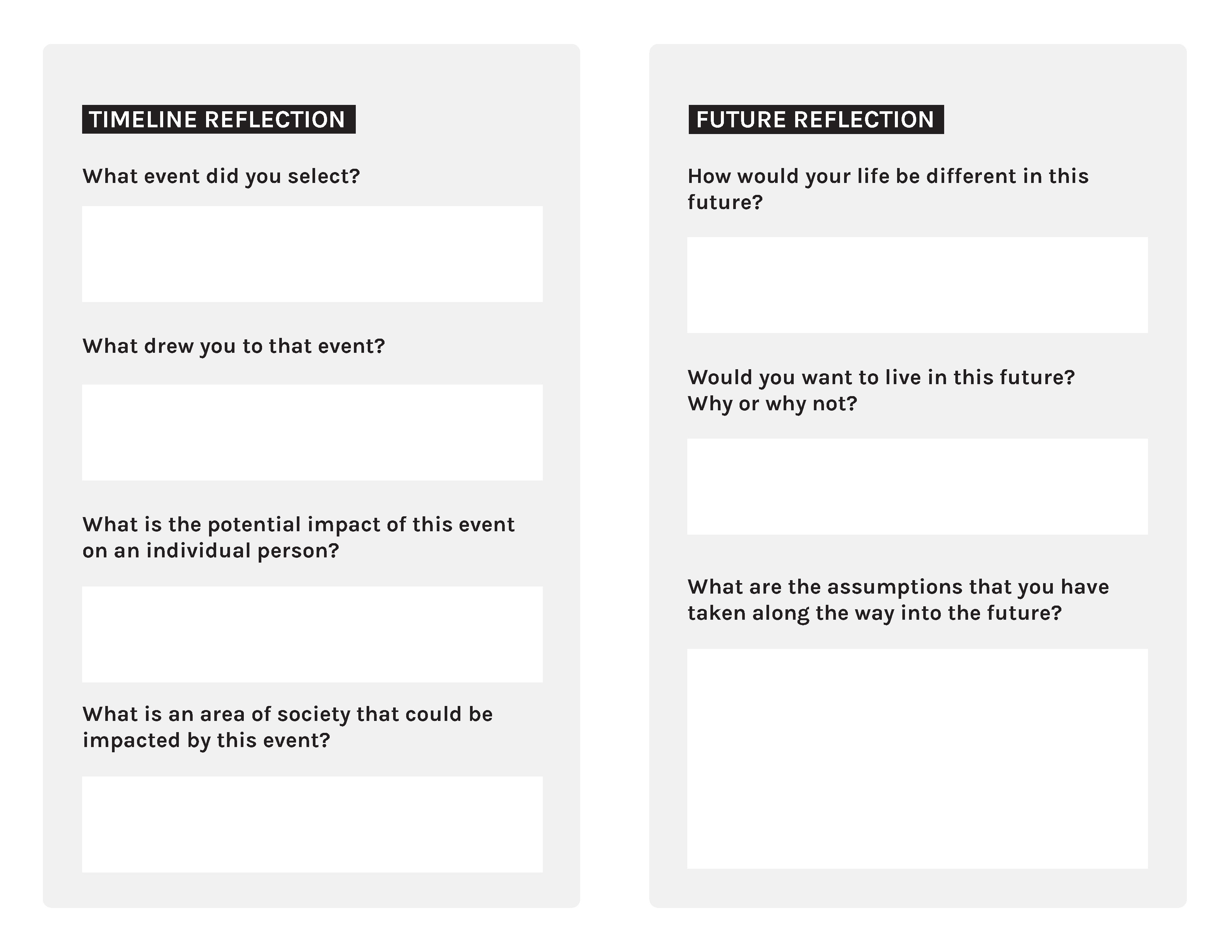 ---
The signals were events that happened during the past 100 years
---
Template for future extrapolation from one signal.
The workshop started by situating participants within a timeline of higher education, connecting past and present events to understand different threads of implications and their own relationship with these events.
Participants were then guided to choose an event of interest and discussed this with the whole group. The group then chose to combine two interrelated events to extrapolate further. In this case, the group chose "Blockchain certificate" and "No more tenure in Iowa". Many different scenarios were brought up, ranging from utopian to dystopian ones—in addition to issues of the present. In the second half of the workshop, the participants chose the area of open-platform higher-ed to dive deeper into the granualities. They created potential future headlines to manifest different scenarios while constructing a deeper narrative. After each exercise, participants were asked to do a personal reflection of the experiences and shared with the groups.
The workshop speculated based on two interesting models of higher-ed educations: Open-Format Education and Value-based Learning. Instances of such structure were identified such as corporate partnership, personalized education, academic freedom for both professors and students, etc. Different speculative scenarios were developed such as mega-universities, shorter academic plans, "platform" programs, co-op K-12 collegiate experiences, and various levels of self- organization for students and professors.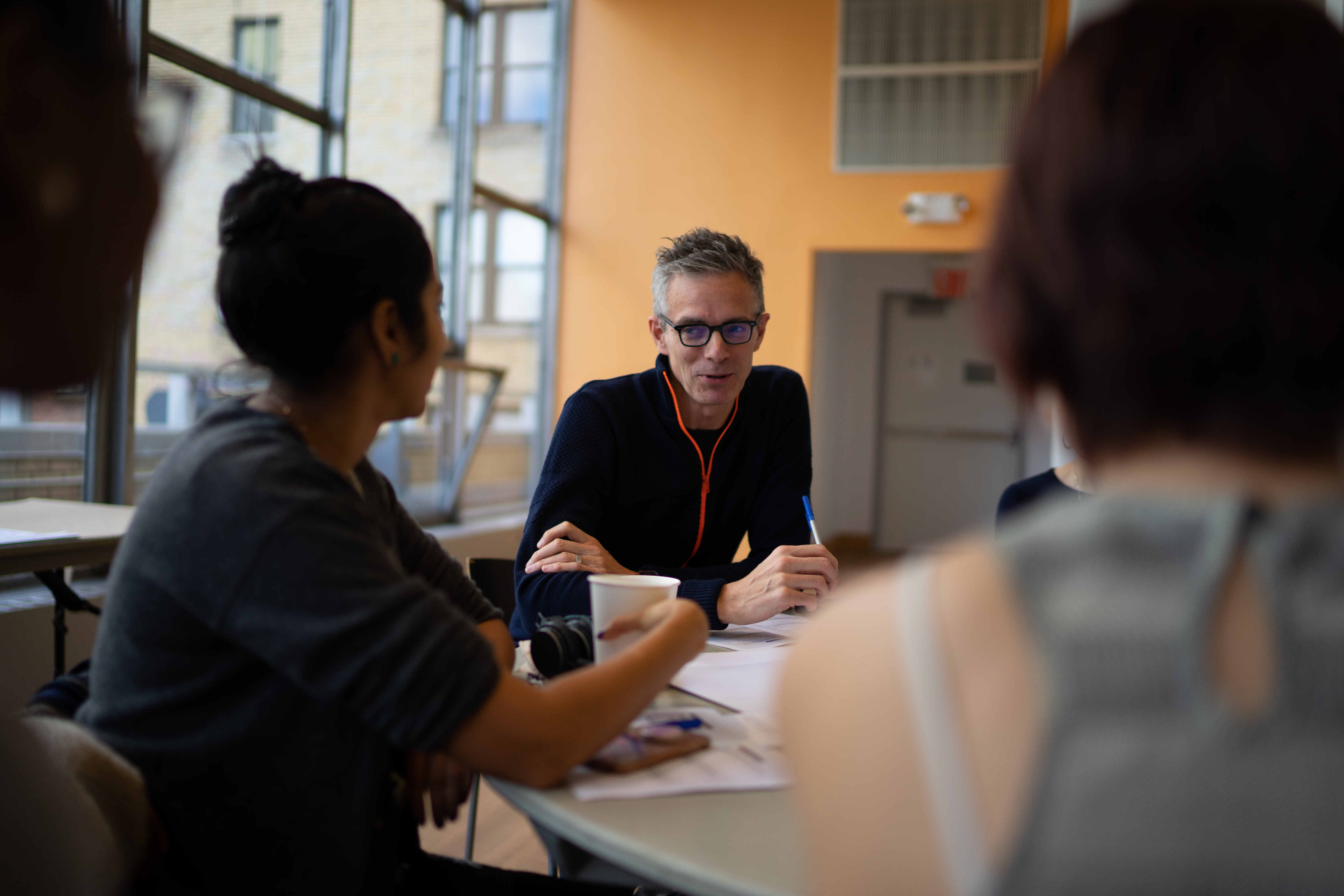 ---
RESULT
The result of this workshop was the creation of new thought models which could be taken into consideration as The New School plans its next 100 years. Key points that emerged through the workshop included:
CHANGING POWER DYNAMICS IN EDUCATION
negotiation of powers between existing and new decision-makers (market, institution, faculty, student, and others)
VALUE-BASED SYSTEM

how can we integrate new values with existing structures



CONFRONTING EQUITY

futures are usually speculated with the assumption of technological availability, accessibility, and progress. How would this issue be addressed moving forward?



THE MONOPOLY OF CORPORATIONS WITHIN THE EDUCATION SPHERE

for-profit vs. academic integrity/freedom



EXPOSURE TO OPTIONS

K-12 students would have more exposure to a diversity of options to orient their interests. At the same time, this creates a condition for lifelong learning